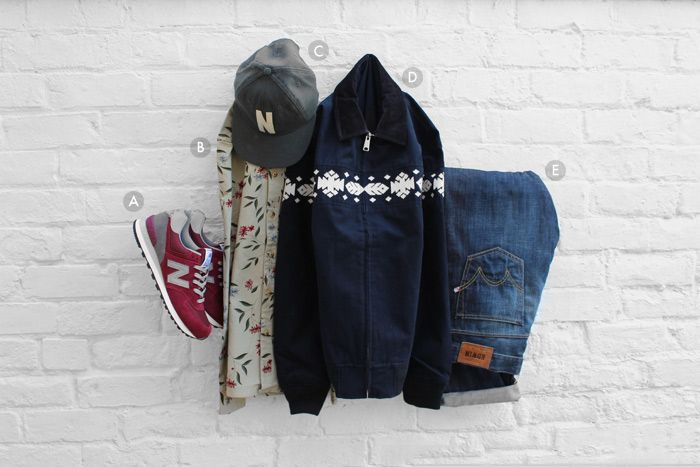 The next instalment of "UNIFORM" comes courtesy of David Hellqvist: Online Editor at PORT Magazine, menswear writer and co-founder of Hellqvist and O'Donovan.
Here's David to talk you through his favourite pieces from the Spring / Summer collection...
A. New Balance 574 - Burgundy: Choosing a pair of New Balance trainers never requires an explanation or motivation. Not owning a pair, on the other hand, does.
B. Penfield Lansdale Shirt - Floral: I love brands that give you quality design without charging ridilocous amounts of money. This floral shirt is one of the better Penfield prints for a long time. A subtle background colour with a stylish accent flower print in wine red? Yes please.
C. Norse Projects Wool Flat Cap - Dark Grey: Next after Ebbets Field Flannels, Norse Projects make the best flat caps around. This one, in grey wool, has a great shape and the white N is a testament to subtle branding, something these Danes master.
D. Carhartt Dozier Bomber - Dark Navy: Carhartt is one of the most reasonably priced brands around today. Decent price tags, superior design... how can you beat that? This is a great example of Carhartt adding its unique design DNA to a plain jacket... they own it now.
E. Edwin ED-71 - Rider Wash: To go with the navy blue jacket, these Rider Wash Edwin jeans in a 12oz denim is the perfect choice. Even though raw denim is the everyday choice, a nice pair of worn out jeans are a must have for any decent wardrobe. Great for spring.
Web: port-magazine.com
Twitter: twitter.com/DAVIDHELLQVIST
Tumblr: davidhellqvist.com
Thanks David.

Penfield Lansdale Shirt - Floral

Edwin ED-71 - Rider Wash

New Balance 574 - Burgundy